Lullaby Lane Baby Shop Blog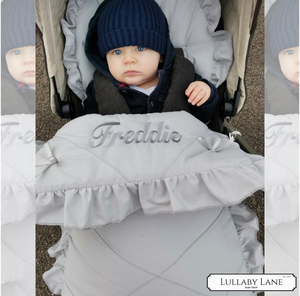 As a parent, keeping your baby warm and cosy is a top priority, especially during the colder months. One of the most challenging aspects of this task is ensuring that your little one stays warm while out and about in their pram. With so many options available, it can be overwhelming to know where to start. But fear not, because in this ultimate guide, we will provide you with all the tips and tricks you need to keep your baby snug and warm in their pram. 
---
As warmer days approach us it's important we remind ourselves that although summer sun is glorious and allows us to make many wonderful outdoor memories with our little ones, it can also be very dangerous if not cautious.  Alongside our extensive summer time baby wear collection of adorable baby boys and baby girls outfits, we also have great range of sun hats. With plenty of colours and styles to choose from, personalised and plain, here at Lullaby Lane Baby Shop I'm sure you'll find the perfect sun hat to add that little bit of extra protection/coverage for your baby this...
---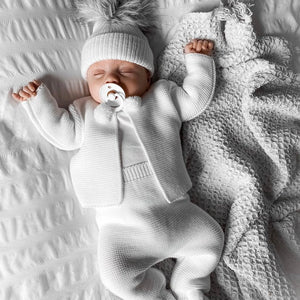 Waiting for the birth to find out the gender? Attending a baby shower? Gender reveal? Or simply just don't fancy going with the traditional 'blue for a boy' 'pink for a girl'! We've got you covered here at Lullaby Lane Baby Shop. With an extensive collection of beautiful gender neutral baby clothes, we believe there's something for everyone. Traditionally, white is the 'go to' unisex clothing colour but we have many adorable outfits for newborn babies in various tones of white, ivory, beige, brown, lemon, grey, navy and red. For multiple occasions and all the seasons our outfits cover; cute,...
---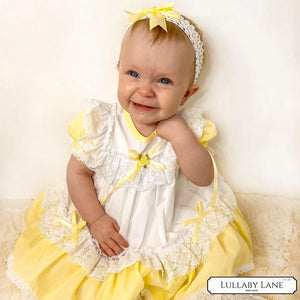 Hop into Easter with Lullaby Lane Baby Shop. Cute lemon baby outfits are a favourite at this special time of year, and available to buy from our online store are a wide range of yellow baby clothing, outfits and sets. We stock a wide range pretty lemon baby dresses, lemon yellow rompers and all in ones, many starting from newborn size to sizes 2 to 3 year, and 3 to 4 years for your baby girl. Not forgetting those all important accessories to complement that special spring outfit, we have a stunning collection of lemon headbands, lemon yellow socks and petty...
---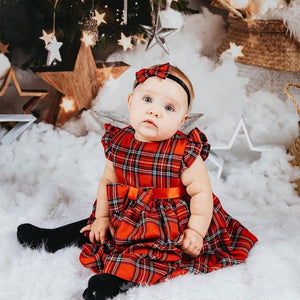 It's beginning to look a lot like Christmas here at Lullaby Lane Baby Shop, as we restock our beautiful tartan dresses, and Christmas outfits and accessories. Not forgetting the wide variety of knitted outfits perfect for those autumn/winter months.  We specialize in beautiful UK made traditional baby girl Tartan Dresses perfect for any First Christmas or Special Christmas Party. Christmas is such a special time, a time for family, so our Christmas Outfits are designed to dazzle and delight. Many styles of our Tartan Dresses also are available up to ages of 3/4 years, so suitable for babies and toddlers...